Entrepreneurship Support
Explore what's on offer at Imperial
Imperial has a thriving entrepreneurship ecosystem bringing together a vast community of students, staff and supporters all striving to break boundaries and turn ideas in to impact. 
From competitions to speaker events and from hackathons to skills seminars, co-working space, and expert mentors we offer all the support you need, free of charge and accessible to everyone. So what are you waiting for?! Use the portal below to find the best support for you.
What are you looking for?
Advanced Hackspace
Three purpose-designed prototyping and fabrication workspaces, supported by team of hacker experts and world-class equipment to help bring your ideas to life.
AI Ventures
Over a series of 5 weeks, students will be exposed to key ideas, principles and frameworks from innovators and Imperial instructors who are leading the future of artificial intelligence.
Business Plan Basics
Being a postdoc is not a career. But being enterprising and being able to put together a reasonable business case will be part of the next career step: whether academic, industrial or the startup arena.
Cancer Innovation Accelerator Programme
MedTech SuperConnector and London In Vitro Diagnostics, National Institute for Health and Care Research will be accepting applications for its Cancer Themed Accelerator Programme from Tuesday 23 May until Friday 30 June 2023.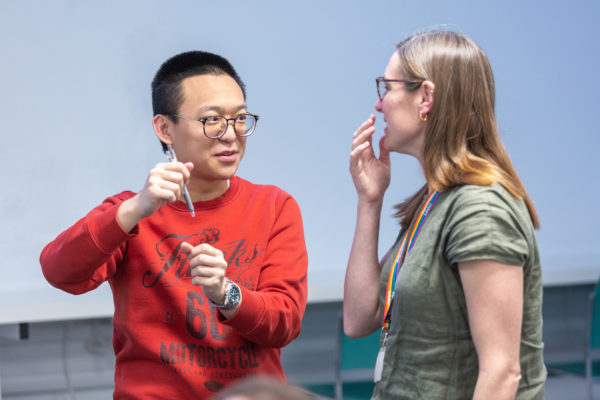 Change Makers Independent Project
Design and undertake a supported project to explore creating change in the world as part of Imperial Horizons or i-Explore.
Climate Entrepreneurs Club
The Climate Entrepreneurs Club aims to inspire and support students in exploring the climate entrepreneurship space, providing informative content related to topics and advances in the space as well as guided workshops.
Climate Launchpad
ClimateLaunchpad is the world's largest green business ideas competition. The Boot Camp and coaching sessions will help you develop your idea to a rock-solid plan and the winners of will go on to compete in the Global Grand Final.
Community Collider
This is Imperial Enterprise Lab's monthly community get together where students from different departments and faculties across the college can come together, collide, and form interesting new pairings and connections!
Deep Tech Network
The Deep Tech Network brings together Deep Tech industry, academics, students and startups to talk, share and collaborate to tackle global issues.
Department of Chemistry
Access the expertise and established know-how of Chemistry academics for idea generation and short term problem solving and state of the art facilities.
Engage audiences, build confidence
In this workshop you will explore: overcoming nerves, assessing an audience and flexing our style, gaining authority and credibility, and handling questions with confidence.
Experts In Residence
Get access to over 75 experts in 25 areas from legals to team building and marketing to IP to help push your business forward.
FoNS Make-A-Difference Competition
Open to all UG students within the Faculty of Natural Sciences. Work on your project for 8 weeks over the summer and present your findings to compete for up to £7,000.
Global Challenge Lab
This 10-day programme of core and optional workshops, guest speakers and mentoring will help teams come up with and develop innovative ideas hat help achieve UN SDG 13: Climate Action, with the chance to win a share of a £20K prize fund!
Global Village: Innovating for Change
Explore a real-world distant community and design a targeted innovation - from technical specification to community engagement and implementation.
Hack Surgery
Looking to make your idea a reality or take your prototype to the next level? Book a Hack Surgery for troubleshooting support, and guidance to get your ideas off the ground!
Hackstarter
Turn your inventive and entrepreneurial ideas into a reality, with a cash boost to get off the ground.
How To Masterclasses
Learn the fundamentals of starting a business from experts in the field, from perfecting your pitch to making sure your idea is financially viable.
Idea Challenge
Up for a challenge? Fancy meeting new people? Then join us for an afternoon of brainstorming, problem-solving fun. You might win a prize too!
Idea Surgery
Got an idea but not sure what to do next? Maybe your business is up and running and you need a little help to figure out the next steps? Book an Idea Surgery and get the guidance you need!
Ideas to Impact Challenge
An annual competition hosted by the Gandhi Centre for Inclusive Innovation, the Ideas to Impact Challenge is aimed at student entrepreneurs who want to solve global challenges.
Imperial Enterprise Lab Co-working Space
Imperial Enterprise Lab's dynamic co-working/event offers a friendly, creative relaxed environment where the Imperial community can work, book meetings, network or just hang out in the chill out area.
Imperial Postdoc and Fellows Enterprise Network
IPFEN is for Early Career Researchers who want to know more about entrepreneurship and enterprise opportunities and activities, including talks, series, and hackathons.
Imperial Venture Mentoring Service
IVMS provides you with up to 3 mentors that will work with you as a team for as long as it takes to get you up and running. It's a unique opportunity for you – not just to get advice from the best, but to tap into their experience and network of contacts.
Imperial White City Incubator
The Incubator provides companies with state-of-the-art wet lab and office facilities, training, support, and access to professional networks in order to help them grow and scale-up.
Intellectual Property and Research
In this workshop you will explore: patents, copyright, commercialisation of inventions, licensing and spin-out companies, dealing with companies, and bridging the academia-industry divide.
Introduction to Advanced Hackspace
An introduction to Advanced Hackspace and how they can support postdocs and fellows
LevelUP
A series of pick-and-mix style introductory workshops, designed to boost your technical know-how and help you learn some of the hands-on practical skills, and approaches involved in rapid prototyping.
MBA Entrepreneurial Journey
Whether you are an aspiring entrepreneur or intrapreneur or want to find out whether the entrepreneurial life is for you, the Entrepreneurial Journey is a safe space to explore an actual business opportunity in a practical environment.
MBA Imperial Innovation Challenge
Working in groups, you will use business model innovation to create economic disruption with positive environmental and social effects. This is an opportunity to showcase the business knowledge you've developed during your MBA so far.
MedTech SuperConnector
MedTech SuperConnector (MTSC) is a six-month accelerator programme for Early Career Researchers (ECRs) including PhD candidates that provides funding, training, advice and access to industry networks.
MSc Innovation, Entrepreneurship & Management
Whether you're a budding entrepreneur or have intrapreneurial ambitions, MSc Innovation, Entrepreneurship & Management will prepare you for an exciting career as an innovator.
Personal Pitching
Using your research as a start, you will work on short pitches (oral, written, virtual communication methods) aiming to get people to want to know more about you/your product.
Pitch Surgery
A Pitch Surgery is a practical session where you get to test your pitch and get feedback from Enterprise Lab coaches and peers.
Social Impact Day
An annual event hosted by the Gandhi Centre for Inclusive Innovation, Social Impact Day consists of industry experts, investors, students and academics coming together to explore how we can achieve real social impact.
Summer Accelerator
The Summer Accelerator is a 3-month programme that helps fast-track the commercial development of your idea and gives you the chance to win £5,000.
The Greenhouse Programme
The Greenhouse is a 12-month programme for climate positive technology startups that offers early-stage entrepreneurs access to business coaching, a range of masterclasses, free workspace in central London, and equity-free grant funding.
Venture Catalyst Challenge
3 months, 5 tracks and £90,000 up for grabs. The Venture Catalyst Challenge is Imperial College London's flagship entrepreneurial competition.
WE Accelerate
A six-month business coaching and peer mentoring programme focused on helping women founders get investment ready.
WE Innovate
WE Innovate is a six-month programme championing women-led teams with an entrepreneurial idea to explore through masterclasses, business coaching, peer mentoring and a £30,000 prize fund.
Want your results sent directly to your inbox so you can access them anytime? Enter you email address below. You can also tick the marketing box to stay up to date with the latest innovations and entrepreneurship news and events at Imperial.